Has Moscow Become the Cyber Crime Outlet Mall?
with Rik Fergus
Director of Security Research and Communication at Trend Micro
---
OVERVIEW: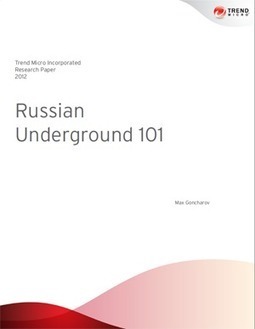 Russian Underground 101 – a Trend Micro Report
Trend Micro has released a report providing an overview of the cyber crime services and prices offered by the Russian underground revealing "a vibrant community of ne'er-do-wells offering every conceivable service at dirt-cheap prices".  Stated differently a Cyber Crime Costco may be emerging.
For example, the following can be had for $500 or less:
Hiring a DDoS attack: $30-$70/day
Email spam: $10 per one million emails
SMS spam: $3-$150 per 100-100,000 messages
Botnet: $200 for 2,000 bots
DDoS botnet: $700
Hacking Facebook or Twitter account: $130
Hacking Gmail account: $162
Hacking corporate mailbox: $500
ABOUT THE GUEST
Rik Ferguson, Director Security Research & Communication at Trend Micro, is one of the
leading experts in information security. He is an advisor to the EU Safer Internet Forum, The
Information Security Alliance EURIM, a project leader with Europol and the International Cyber
Security Prevention Alliance (ICSPA), a director of Get Safe Online and advisor to various UK
government technology forums. In April 2011 Rik was inducted into the Infosecurity Hall of
Fame.
As a presenter at global industry events such as RSA, Mobile World Congress, Virus Bulletin,
RUSI and the e-Crime Congress, Rik addresses the challenges posed by emerging technology
and online crime. He is frequently interviewed by the BBC, CNN, CNBC, Channel 4, Sky News
and Al-Jazeera English and is quoted by national newspapers and trade publications throughout
the world.
Rik writes the Countermeasures blog and is the lead spokesperson for Trend Micro, he also
writes regular columns for CIO, ZDNet, T3 and several other European publications. In this
position, Rik is actively engaged in research into online threats and the underground economy.
He also researches the wider implications of new developments in the Information Technology
arena and their impact on security both for consumers and in the enterprise.
With over seventeen years experience in information security, Rik has been with Trend Micro
since 2007. Prior to assuming his current role he served as Security Infrastructure Specialist at
EDS where he led the security design work for government projects related to justice and law
enforcement and as Senior Product Engineer at McAfee focused on network security, intrusion
prevention, encryption and content filtering.
Rik Ferguson holds a Bachelor of Arts degree from the University of Wales and is a Certified
Ethical Hacker and CISSP-ISSAP in good standing.